AMICI E VINI SONO MEGLIO VECChi
'Friends and wines improve with age'
You rarely see Italians drinking wine by itself.  Italian wines are meant to be enjoyed with food, friends and family.
Vale Creek Wines is situated 15km south of Bathurst on a rural property fronting the Queen Charlotte's Vale Creek. With the first plantings in 2002, the vineyard and winery were set up to produce ultra premium wines from cool climate Italian grape varieties.
The Cellar Door, commercial kitchen and function centre  are set in one of the prettiest valleys you will experience.
Developing this unique winery and cellar door in Bathurst has brought the best of Italy to our doorstep yet managed to retain the essential Australian character of their picturesque valley. Talk about a nice blend!
At Vale Creek we are creating something special.
"Salute"
The Woods Family
THE VERY BEST ITALIAN WINES
'Friends and wines improve with age'
Vale Creek Wines specialises in only Italian Wine Varietals. With the growing awareness of how wine and food compliment each other Italian Wine Varietals are growing in popularity each day. From the crisp and refreshing Pinot Grigio to the sweet and aromatic Moscato through the medium bodied Sangiovese to the ruby red Barbera these wines are finding themselves a niche in the Australian palate.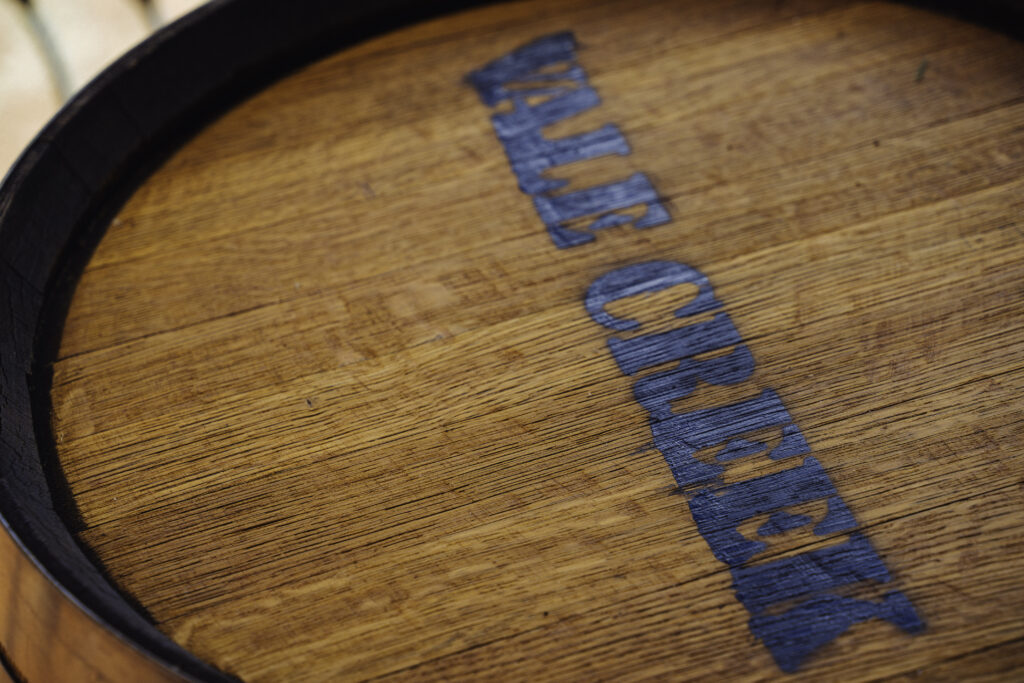 Our Wine
SANGIOVESE – the legendary red grape from Tuscany is the most widely planted grape in Italy it is well recognised for its ability to compliment food. With lighter colouring it is a soft medium bodied wine providing the perfect accompaniment to any Mediterranean dish or the Sunday roast.
Our Wine
PINOT GRIGIO – this popular cool – climate style from Italy's Friuli Region is now in great demand in Australia. Delightfully herbaceous and fruity aromas greet the nose, while the palate is rewarded with flavours of fresh pear, peach and apple. Made in the Italian style, this wine exhibits crisp acidity that integrates well seafood and chicken dishes and Asian food.
Our Wine
MOSCATO – widely planted in Italy in various forms. The fermentation, in stainless steel, was stopped midway through by chilling, to create a relatively low alcohol wine with retained sugars. The result is an aromatic, floral, fruity wine which is pleasantly sweet. Served chilled with desserts or as an aperitivo.
Our Wine
VERMENTINO – this white grape is thought to have arrived in Itasly from Spain in the twelfth century. Since its introduction it is rapidly growing popular in Australia. It has a pale straw yellow colouring with a fragant floral nose. Vermentino is a fresh, medium bodied wine with a mineral tropical fruit palate. Its crisp acidity makes it the perfect partner with poultry and especially seafood.
Our Wine
BARBERA – extensively planted in Piedmont in Italy's north west, Barbera is a medium bodied red wine with a great ruby red colour and characteristic berry flavours. Barbera is one of the most food friendly wines. Being low in tannins the wine will not overpower meals, while the balanced acidity will serve to complement any dish. Perfect to accompany meat dishes and Mediterranean inspired creations.
Our Wine
DOLCETTO - Dolcetto, means "little sweet one" in Italian. Confusingly, it's not a sweet wine at all, but rather friendly with berry fruit and framed by occasionally pronounced but not overpowering tannins. It is primarily grown in the Piedmont region of north western Italy, most notably in and around Alba and Dogliani. Dolcetto is a red wine of generous berry fruit, hints of flowers like violets, an occasional undertow of savouriness, and enough tannin to balance richer foods but not so much weight that it overwhelms lighter ones.
Book a tasting with you and your freinds and enjoy our Italian Wines